The Champs: Bryan Trottier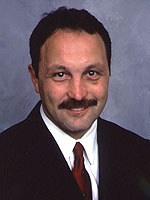 Equally adept at the physical and finesse aspects of the game, Bryan Trottier was the best two-way center of his time... with fellow Hall-of-Famer Mike Bossy, Trottier formed one of the NHL's most fearsome scoring duos... the Islanders' all-time leader in points with 1,353 and assists with 853... his 500 career goals are second only to Bossy's 573 on the Isles' all-time list... ranks 12th among all-time NHL scorers (9th in assists, 21st in goals)... named most valuable player of the 1980 playoffs and NHL MVP in 1978-79... his 184 playoff points are sixth on all-time list... set record for longest playoff point scoring streak in 1981 with an 18-game run (11 goals, 18 assists)... one of the top 50 players of all time, according to The Hockey News... counting his two championships with the Pittsburgh Penguins, Trottier is the owner of six Stanley Cup rings... now an assistant coach with the Colorado Avalanche... prior to that, spent a year as head coach of the American Hockey Leauge's Portland Pirates, a Washington Capitals affiliate, leading the team to a 33-win, 80-point season.
Trottier reminisced to The New York Post about the Isles' heartbreaking playoff ousters in the late 1970s, and the first championship season. "When we lost in 1978 to Toronto and in 1979 to the Rangers, we were questioned physically," he said. "And then in 1980, Boston just basically tried to intimidate us, beginning with shift one of game one. First they challenged Bobby Nystrom, who stood up, and then right behind that there was Clarkie (Gillies). And I'll tell you what, when Clarkie responded, I felt bullet-proof, and so did the whole team. "When (Gillies) was throwing punches, it was as if we were all throwing punches. When we saw the big boy was ready, we were ready, too."
Asked which Islander championship was the most memorable, Trottier told the Post, "I remember each year and each victory as so sweet, but what I most remember is the feeling we had in the locker room that nobody was going to beat us."
Of course, all good things come to an end. The Islanders' reign finally ended in 1984 at the hands of the Edmonton Oilers, who built a dynasty of their own after failing to dethrone the Isles in two previous playoff meetings. "God bless them," Trottier said. "It was their time. It was their due. But I like to think we made them work for it, and I like to think that maybe we set an example for them."
Here's more from Trottier on the 1979-80, 1980-81 and 1981-82 seasons.